Evolutionary Theory, Stage III: The Return to Human Nature
Genes and Memes –  Throughout the 1960s and 1970s evolutionary was further confirmed and understood at greater depths than ever before. Mathematical insights shed light on adaptation, kin selection [altruism toward close relatives], reciprocal altruism [directed toward away from relatives even toward other species], and the relevance of game theory to evolving populations [for example, non-human animals often find themselves in situations with the structure of a prisoner's dilemma.]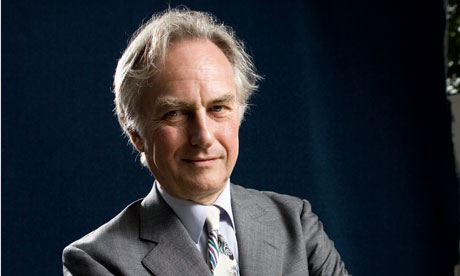 Richard Dawkins
This research meant that evolution could be understood at the level of the gene, an idea popularized by Richard Dawkins in his famous book, The Selfish Gene
. The very title of the book helps us see evolution in terms of the competition of genes trying to survive. [With today's mathematical modeling we can understand this in great detail.] At the end of the book Dawkins argued that culture evolves analogously to biology only much faster. The elements of culture that are selected for are ideas, beliefs, practices, fashions, etc. Dawkins called these "memes." Some memes catch on and survive–say a belief in gods or immortality or wings for aircraft—while others go extinct—like the idea of celibacy for everyone or wings attached to your arms. Like genes, memes are transferred from person to person, only rather than being transferred from one body to another they are transfer from one brain to another. This means you can spread memes must faster than you can spread genes. Cultural evolution is very fast while biological evolution proceeds very slowly. [Cultural evolution also seems to be guided by Lamarckian "inheritance of acquired characteristics." You inherit your religious or sports team loyalties from say your parents, who acquired them.]
Niko Tinbergen
The Rise of Ethology – In the mid-twentieth century a new discipline arose, ethology, which studies animal behavior in its natural environment. The key finding was that much behavior is physiologically innate or hard-wired. Many behaviors in animals can't be explained by environmental conditioning. They exist independent of experience or learning, they are fixed. It seems evolution has designed species-wide behaviors. Regarding animal behavior, the great ethologist Niko Tinbergen asked four questions and provided answers to each.
1) What is the internal physiological cause of a behavior? Answer. Muscle contractions, hormone secretions, etc.
2) What development or experience of the individual prepared the way for that behavior? Answer. Fetal development, growth patterns like hormone changes, or previous learning.
3) What is the function of the behavior? Answer. To survive, reproduce, escape predators, reinforce pair-bonds, etc.
4) What is the evolutionary history of the behavior? Answer. Sometimes the function of behaviors changes over time, and ethologists try to distinguish 3 form 4.
Konrad Lorenz
Konrad Lorenz (1903 -1989) became famous for studying animal behavior, especially the imprinting of ducks to the first moving thing they see. He assumed imprinting was an innate feature of many animals, but he reached this conclusion too easily—how does one know which traits are learned and which are innate? Moreover if an anti-social behavior is innate, can it be eradicated or are we stuck with it? Lorenz did believe in group selection, but as we have seen the level or levels at which selection operates is still open to debate.
Noam Chomsky
Chomsky and Cognitive Psychology –  While B.F. Skinner thought that language could be explained by the social environment, the linguist Noam Chomsky showed that human facility with language is different from other animal behaviors.  All normal humans can learn language and no animal language approaches the complexity of human language. Even chimps who use sign language fall far short of human language. Chomsky famously argued that the speed at which infants learn language and grammatical  rules suggests that a capacity for language is innate. There is a universal human grammar, and it is a result of our evolutionary history. [This has been the most influential idea in 20th century linguistics.] In short, our facility with language is an evolutionary adaptation, a feature selected for in our long evolutionary history. Language aids survival. Today research on this topic is pursued by linguists, neuroscientists, and evolutionary biologists.
[Today Chomsky is known mostly as a political philosopher and social critic, especially as a critic of American domestic and foreign policy. Despite writing voluminously on political topics, despite a fearless desire to debate anyone, anywhere, you will almost never see him on TV or noted in the mass media. His ideas are generally censored from the masses. Here is a collection of his essays: Masters of Mankind: Essays and Lectures, 1969-2013
.]
E. O. Wilson
E. O. Wilson and Sociobiology – But if language has a strong evolutionary component, then wouldn't other human behaviors? The Harvard biologist E. O. Wilson was the first to argue convincingly and vehemently that the humanities and social sciences can be reduced to biology, and that all this leads to the new science of sociobiology. In his Pulitzer Prize-winning book, On Human Nature, Wilson offers biological explanations for human social behaviors like aggression, sex, ethics, and religion. [I think this is one of the most important books of the 20th century. And it is eminently readable.] Needless to say Wilson's ideas have provoked controversy, especially from social scientists who don't want to believe their fields can be biologized. Moreover they fear that Wilson's views give support to those who would misuse them for racist or sexist views. Even some biologists believe he is underestimating the influence of culture. The political implications of Wilson's theories are thought by some to be so controversial, that this grey-haired grandfather once had a bucket of water dumped on his head at a conference!
But Wilson's detractors were wrong. He clearly saw that both biology and culture as influential on human nature, and he made this clear to anyone who read his books carefully. In fact he wrote an entire book on gene-culture coevolution. Still he may have been right when he said that, for the moment, "genes hold culture on a leash." We are not that far removed from our evolutionary past; its imprint is apparent in our behaviors.
Cosmides/Tooby and the Integrated Causal Model – What Wilson called sociobiology goes by other names like evolutionary psychology or evolutionary anthropology. This school of thought applies Darwinian insights to the human mind and human behaviors. Key premises are: 1) universal human nature refers primarily to evolved psychological mechanisms; 2) these mechanisms are adaptations selected for over many generations that helped us survive and reproduce, (remember though what was formerly adaptive and what is now adapted can be different—going to college may now be adaptive, aggression may no longer be); 3) our minds contain adaptations from distant ancestors, all the way back to the Pleistocene. This final point has been challenged by evidence that genes may evolve faster than previously thought.
Cosmides and Tooby
Cosmides and Tooby, an anthropologist and psychologist respectively, also critique the standard social science emphasis on the environmental factors. Because social scientists fear racist and sexist ideologies, they argue, they have been blind to the overwhelming evidence for evolutionarily produced cognitive mechanisms. Like Wilson they propose that a complex web of causal factors produced human nature. Behind any human phenomena is 1) natural selection operating over eons of time producing innate cognitive structures; 2) historical development; 3) unique genes as the result of sexual reproduction; 4) physical, cultural, and social environments; and 5) information processing which leads to beliefs and desires.
What all this means is that there are innate mental modules resulting from natural selection that operated on our distant ancestors, especially regarding factors relevant to reproductive fitness like perception, language, cooperation, mate selection, parental care. [Harvard's Steven Pinker and Rutgers' Helen Fischer both write about these issues for popular audiences.] Still all of this is open to further investigation. Human nature is complex and there is much more to be learned.
The Blank Slate: The Modern Denial of Human Nature
Why Him? Why Her?: How to Find and Keep Lasting Love
Why We Love: The Nature and Chemistry of Romantic Love
Final Thoughts
Darwin himself was a scientist who was unafraid of the truth:
[Humans in their] arrogance think [themselves] a great work worthy the interposition of a deity. More humble and I think truer to consider [them] created from animals. 
Yet at the same time he was an artist who saw beauty in that truth:
There is grandeur in this view of life, with its several powers, having been originally breathed into a few forms or into one; and that, whilst this planet has gone cycling on according to the fixed law of gravity, from so simple a beginning endless forms most beautiful and most wonderful have been, and are being, evolved.
It is hard to ask much more of a human being.
Charles Darwin and his wife Emma Wedgewood