Evolutionary Theory, Stage II: The Reaction Against Biological Accounts of Human Nature

Gregor Mendel
The Genetic Basis of Heredity – Darwin knew that there are variations between individuals and that these variations are inherited, but he didn't know the mechanism of inheritance. This mechanism was discovered by Gregor Mendel who figured out that distinct casual factors—what we call genes—are passed from parents to offspring. We now know that sometimes genes change or mutate randomly, which accounts for genetic variation. Putting Mendelian genetics together with Darwinian natural selection along with precise mathematically modeling resulted in the "modern synthesis." [This feat accomplished during the 1930s and 1940s is one of the greatest scientific achievements of all time.] To make the ideas even stronger, the biochemical basis of gene copying was uncovered with the discovery of DNA in 1953 by Crick and Watson. This ushered in the era of molecular biology, so that we now understand evolution at a molecular level that Darwin couldn't imagine. Today, in laboratories around the world, biological evolution is confirmed over and over every single day! Over and over and over; day after day after day! 

Crick & Watson
Eugenics, Racism, and Sexism – Many were led to the conclusion that evolution implied that there are innate differences between individuals, sexes, or races. Perhaps this implies that we should let the physically or mentally weak die or at least keep them from breeding. This led to the idea of eugenics, the study of how to produce fit offspring. In the early twentieth century much of the western world was enamored with this idea. Yet even if this was ethically acceptable, it is practically impossible to know who has "bad" genes. Moreover such judgments, as Darwin himself realized, were sociological not biological. What we call different races are all the same species. Racism and sexism all emanate from prejudice against groups with no biological justification for such prejudice. [Race is not a justifiable biological concept. More genetic diversity exists within populations than between them.]
The Reaction in Favor of Culture and Education: Intelligence Tests, Sociology, and Anthropology – Many went further to suggest that woman and some racial groups were intellectually inferior to white men. But this raises a number of questions. Is there some single thing called intelligence that can be measured? Even if there were how would it be measured. Are there different kinds of intelligence, say social or moral intelligence as compared to simply being good at math or language? And even if we had tests to measure this supposed intelligence how do we know if the results are due to innate ability or social opportunities? Today the whole idea of intelligence measurement is controversial.
Moreover the burgeoning social sciences of the 19th century placed more emphasis on the influence of culture rather than biology to explain human behavior. (With the exception of some basic biological functioning.) Social scientists generally say that facts about human beings are: 1) physical; 2) psychological; and 3) social/cultural. Most importantly social facts are not reducible to psychological or physical facts. This means that social facts really exist just as physical things do. [There really are such things as sub-cultures or societies.] Social facts are facts about wholes that cannot be reduced to their parts. [Society is not just a collection of individuals.] The social world strongly affects the individual. Culture is not reducible to biology. [If you were raised in a non-English speaking culture, you would probably not have learned English.] However none of this implies cultural relativism. Some cultures may be better than others, at least in certain ways.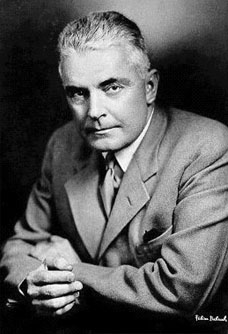 John B. Watson
The Reaction Against Instinct Theory: Behaviorist Psychology – There was also a reaction against supposedly Darwinian ideas in psychology, especially the idea of instincts. To put psychology on a more scientific basis John B. Watson (1878-1958) proposed that psychology study observable behaviors and reject appeal to vague notions like instincts, intentions, or other mental states. He was so adamant about the influence of the environment that he thought he could make any healthy child a world-class scholar, musician, or athlete if the right environment were provided. This program was carried forth by B.F. Skinner (1904 – 1990) at Harvard. Skinner argued the environment selects behaviors by rewarding them, or eliminates behaviors by punishing them. [Classical and operate conditioning.] In other words Skinner emphasized that behavior was explained by environmental causes. While there is some truth in all this, studies of identical twins reared apart—who share identical genomes—reveal the strong influence on the biological as compared to the environmental.
B.F. Skinner
Because of the perversions of social Darwinism, racism, sexism and all the other immoral ideas attached to Darwinism, the biology of human nature was ignored until the 1960s. And while we acknowledge the horrors of racism and sexism and social Darwinism, we should also not ignore facts about our biology. In the last few decades, a new wave of thinkers rediscovered and extended the Darwinian paradigm further than Darwin could ever imagine. They have brought about a scientific revolution. We now turn to these ideas.