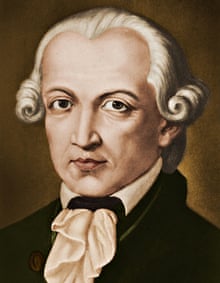 Immanuel Kant (1724 – 1804) is generally considered one of the three or four greatest philosophers in the Western tradition. He lived his entire life in Konigsberg, Prussia which is today the city of Kaliningrad in Russia. Kant's philosophy is extraordinarily complex but perhaps he was most interested in reconciling Christianity with the science of the Enlightenment.
Kant was quite an accomplished scientist who "developed the nebular hypothesis, the first account of the origin of the solar system by accretion of the planets from clouds of dust." His education in the humanities was equally impressive "embracing Greek and Latin philosophy and literature, European philosophy, theology, and political theory." In his university education he was particularly influenced Leibniz, a rationalist who believed that pure reason could prove metaphysical claims, especially those about the existence of god and that we live in the best of all possible worlds. Thus both empiricism and rationalism influenced him, and he spent a lifetime trying to reconcile them.
Kant was the deepest thinker of the European Enlightenment who believed "in the free, democratic use of reason to examine everything, however traditional, authoritative, or sacred … He argued that the only limits on human reason are those that we discover when we scrutinize the pretensions and limitations of reason itself …" His emphasis on the inquiry into the nature and limits of human knowledge meant that epistemology became for him the heart of philosophy. He turned his critical analysis to science, metaphysics, ethics, judgments of beauty and to religion.
Metaphysics, Epistemology, and the Limits of Human Knowledge – A fundamental theme of Kant's philosophy "was to explain how scientific knowledge is possible." He argued that "science depends on certain fundamental propositions, for example, that every event has a cause and that something (substance) is conserved through mere change." These principles cannot be proved empirically but they are not tautologies either. [In Kant's language they are synthetic a priori propositions---propositions whose predicate concept is not contained in its subject concept but related, and propositions whose justification does not rely upon experience. An example of a synthetic proposition is "all bachelors are unhappy." An example of an a priori proposition is "all bachelors are unmarried.] Many philosophers of the time including Leibniz and Hume, as well as many philosophers today deny the possibility of such propositions.] Kant believed that these synthetic a priori propositions "can be shown to be necessary conditions of any self-conscious, conceptualized perceptual experience of an objective world. [In other words we can't have experiences of the world without assuming these propositions are true.]
In the first part of his magisterial Critique of Pure Reason, Kant sets out his theory of how we perceive everything in space and time, and the twelve categories or forms of thought and associated concepts like substance and causality. This leads to the justification for Kant of empirical (a posteriori) knowledge derived from sense experience, and analytical (a priori) knowledge derived from pure reasoning. And, as we saw in the previous paragraph, he also argued that there exist synthetic a priori propositions. Kant famously argued that much of mathematics is in this 3rd box, although many philosophers would argue that mathematics is analytic. Most importantly Kant accepts the existence of an independently existing material world. [Kant is arguing, among other things, that mathematical and scientific knowledge are justified.]
Still Kant argued that how we perceive this external world depends on how the inputs of that world are processed by our cognitive faculties and sensory apparatus. This implies that our cognitive intuitions may "distort our representation of what exists." And this means we know the world only as it appears to us, not as it really is. Furthermore things as they really are may not even be in space and time! [Thus Kant's Copernican revolution. We are at the center of our reality, structuring it with our minds; our minds are not passive receptors of the external world.]
In the second part of the Critique of Pure Reason, Kant argues that "reason tries to go beyond  … its legitimate use, when we claim illusory metaphysical knowledge … ( human souls, the universe as a whole, uncaused events, and God.) Such claims go beyond the bounds of human knowledge … we can neither prove nor disprove them; we cannot even acquire probable evidence for or against them." Thus a decisive break with natural theology. [For Kant theology is not an intellectually justified discipline.] Of course many theologians have responded with fideism (religious belief is justified by faith) but, as we will see, Kant is not in this tradition.
Theory of Human Nature – As we have seen Kant was basically interested in reconciling morality and religion with science. How does human nature fit into this project? For Kant perceptual knowledge depends upon the interaction of "sensory states caused by physical objects and events outside the mind, and the mind's activity in organizing these data under concepts …" Thus humans interact with the world with their senses and their understanding (reasoning and language.) Reason also plays a special role for human beings—they use it to integrate all their knowledge, in "the scientific search for a unified theory of all natural phenomena."
In addition to abstract theorizing, reasoning also plays a practical role in Kant's philosophy. We are agents who do things, who act in the world. But there are not merely causes for what we do, as there are for our non-human animal brethren, we also give reasons for what we do. Sometimes the reason we do thing involves our desires which Kant labels "hypothetical imperatives." [If you want to be a lawyer, then you ought to go to law school.] But at other times, Kant argues, the reasons for our actions command us independent of our desires as in our moral obligations. We ought to tell the truth or help others even if lying or ignoring them would be in our self-interest. These are examples of what Kant calls "categorical imperatives." [You ought not lie, even if lying would satisfy some desire you have.] Reason recognizes these categorical imperatives which are the basis of ethics [suicide and lying are bad; helping others and developing your talents are good.]
So what does all this mean for his conception of human nature? Are we dualistic or merely material? Kant leaves the question open, it is irresolvable. [Whether the soul is immortal or not; whether we are free or determined, whether the world in infinite or not, all of these Kant calls "antinomies of reason." That is we can use reason to support either view.] Kant is perhaps most interested in freedom. As for our biological bodies, we are just as determined as other things in the physical world, but because we are rational beings we can act for reasons. We can thus be free. [If we are entirely material beings, this solution probably doesn't work.] Of course while we can see that my reasons give me a reason to act, it is hard to see how rational propositions give me a reason to act. [The latter is what the categorical imperative claims.] Kant does not solve the problem of freedom—nobody else has either—but he does believe that we act "under the idea of freedom." That is from a practical we necessarily presuppose that we are free. [And the ethical point of view presupposes freedom as well.]