(I am teaching the course "Philosophy of the Human Person" at a local university. These are my notes of the primary text for the course, Twelve Theories of Human Nature. )
Darwinian Theories of Human Nature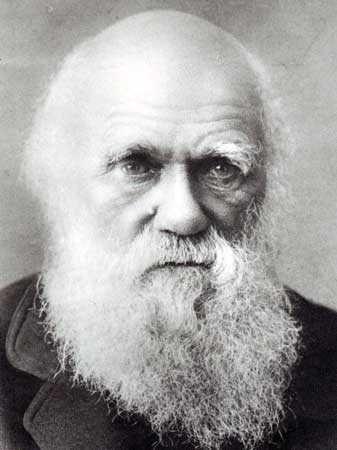 What does modern biology say about human nature? To understand the answer to this question let us look the history of evolutionary ideas.
Evolutionary Theory, Stage I: Darwin and his Contemporaries – Before Darwin came along scientists in the 18th and 19th century realized the world was much older than the Judeo-Christian tradition had assumed. Geologists like Charles Lyell realized that layers of rocks or soil were formed by processes like eruption, sedimentation, and erosion over vast periods of time. Scientists before Darwin had also discovered fossils of creatures that no longer existed. Many thinkers, including Darwin's Grandfather Erasmus Darwin, had realized that the organisms that exist now had come from predecessors through a series of small changes. [Even some pre-Socratic philosophers had theories of evolution.]
Darwin on Natural Selection – Of course it is one  thing to realize that something had happened but quite another to show how it had happened. What Darwin realized was that natural selection was the mechanism for evolution. The most prominent theory about how this had happened before was Lamarck's theory. Lamarck believed in the "inheritance of acquired characteristics." If animals, for example, stretch their necks they might pass on long necks to their offspring. [Or if you lift weights you might pass on your muscles to your offspring.] Darwin, who came to Cambridge to study first medicine and then theology, found himself most fascinated with biology and geology—which led to his getting a position as the naturalist about the HMS Beagle on its five-year trip around the world.
During his excursion he found bones of huge, extinct animals, the fossilized remains of sea creatures, an earthquake in Chile that uplifted earth, and other evidence of the processes of geological change. And of course he saw the birds and other animals in the Galapagos Islands, which were similar to those of the mainland but differed from one island to another. Even the beaks of little finches differed from one island to the other, in each case so as to help them get food on that island. Shortly after his return to England he came up with the idea of natural selection, but he did not publish the idea for almost twenty years since they were so controversial. Finally, after Alfred Wallace had arrived at the same conclusions, his friends encouraged him to publish so that he could get the credit.
The basic idea of evolution can be logically deduced from 4 basic empirical facts:
1) Variation of traits exists among individuals in a given species [look at other humans]
2) Traits of parents are passed on to offspring [look at people's parents]
You can easily see both of the above by looking around you. This is how we have bred animals and plants for thousands of years. Just like humans artificially select to modify species—hence all those different dogs walking around—so too does nature select. And that's called natural selection. Here are the other two facts:
3) The population of a species can increase quickly, and
4) An environment's resources typically cannot support such increases.
Fact #3 can be confirmed when you realize that any pair of organisms can produce more than two offspring, in some cases thousands of offspring. Along with fact #4, this means that only a small portion of offspring reach maturity and reproduce, and that there is a competition to survive and reproduce. Given fact #1 we can logically infer that some individuals, because of their differences, have a better chance to survive and leave offspring than other individuals. Thus the traits of those individuals that reproduce will be passed on. This means that the characteristic of populations gradually change and, given enough time, this will lead to new species. All you need is natural selection working on individuals with different traits. (Darwin also recognized sexual selection, the process of selecting for traits that help individuals reproduce—color of birds, antlers of the stag, or a peacock's tail.)The Origin of Species is basically 700 pages of evidence to support his logical inference—evidence from selective breeding, natural history, paleontology, and more.
Darwin on Human Evolution – While others immediately saw the implications of his theory for human bodies, Darwin waited another 12 years to publish The Descent of Man. In it he used anatomical, medical, embryological, and behavioral evidence to support the thesis that the human body has a common ancestry with other animals. Today biological evolution is acknowledged as a fact beyond any reasonable doubt by biologists. The overwhelming evidence for this today comes from literally dozens of sciences including but not limited to: comparative anatomy, botany, embryology, biochemistry, genetics, anthropology, geology, molecular biology, chemistry, mathematics, population ecology, zoology, and more. This is as well established as anything in science.
[Evolution is as well established as that gravity or atoms exist! It is every bit as certain as that the earth is (roughly) round and goes around the sun! Anyone who tells you that evolution is false is either a) lying; or b) scientifically illiterate. The only way to imagine it is false is if intelligent aliens or deceptive gods are playing tricks with our minds! But you don't have to trust me. Here is a link to a statement  on the issue from the National Academy of Sciences, the most important scientific body in the world. You could also visit hundreds of other scientific websites to confirm this claim. Even better, major in biology at a good university and you can learn to understand this fact first hand. ]
Social Darwinism – But what are the social, ethical, or religious implications of the theory? Specifically, can a scientific fact imply anything about values? Can you get an ought from an is? It seems not. For example, it may be a scientific fact that penicillin cures certain bacterial infections, but that doesn't mean that you ought to take penicillin (unless you value health.) Or it may be a fact that large amounts of energy are released when we split atoms, but that doesn't imply that you ought to split atoms. Similarly the fact of evolution doesn't tell us what we ought to do. (Defenders of this view say that those who think you can get facts from values commit the naturalistic fallacy.)
Still others say that since evolution implies the most biologically fit survive and reproduce, and since biological success might be thought of as the ultimate value, those who survive must be the most valuable. They take Darwinism to imply that we should do everything we can to survive, that greed is good, etc. [Not surprisingly Ayn Rand, the matron of today's Republican Party in the USA, titled her work on ethics: The Virtue of Selfishness.] In other words those who survive are not the biological fittest, but basically the fittest in a larger sense. [In the USA today this is generally taken to mean those with the most money.]
This also implies that charity, health-care, social security, public education, child care, etc are pointless. You must let the inferior die; they cannot possibly be as valuable as the idle rich! Many thinkers in the USA in the 19th century adopted this attitude, and it was as common among the robber barons at that time as it is among large elements of today's Republican Party in America. It advocates competition to weed out the 47% who are Ayn Rand's or Mitt Romney's or US Senator Paul Ryan's moochers. It is but a small step from social Darwinism to racism and genocide. But it doesn't follow that those who are biologically fit—like cockroaches—are morally, artistically, intellectually, spiritually, or psychologically fit. Those who have the most children or the most money aren't necessarily the best in other ways. And social Darwinism was not Darwin's idea, nor did he subscribe to it. The idea came from the philosopher Herbert Spencer, and was embraced by the wealthy in America in the 19th century, as it still in large part is. [How ironic that so many of the opponents of biological Darwinism in the American political arena, primarily from the right, are supporters of social Darwinism. They disbelieve what we know to be true, and believe what we know to be false.]
Darwin's Own Values – Darwin suggested that not only had human bodies evolved from lower forms, but so too had our intelligence, language, emotions, morality and religion. [Today we know that Darwin was right about all this. He was, I believe, the most important human being who has yet lived.] Darwin knew he was speculating by extending evolution from human bodies to their minds and behaviors. And some of his ideas, especially about selection operating at the level of the group—group selection—are still matters of controversy today. [Yes there are controversies about how evolution happened, but none about that it happened.] He also realized that culture as well as biology influenced ethical values and religious beliefs. Darwin believed that human sympathy and compassion were noble. By all accounts he was a humble man, dedicated father, and affectionate husband.
The reply to social Darwinism is that evolution has given us sympathy and concern for our fellows, and the intelligence to make a just and moral world. This is every bit as natural as a survival of the fittest. But in the end the appeal to the ethics of Kant or Marx or Christianity at its best goes well beyond any biological imperative. As for religion, many pages have been spilled on the issue of Darwin's religious beliefs. But anyone serious about discovering his views will conclude that by the end of his life he was almost certainly a closet atheist. He had come a long way from preparing for the clergy as a young man.
Charles Robert Darwin is buried in the north aisle of the nave of Westminster Abbey, not far from Sir Isaac Newton.